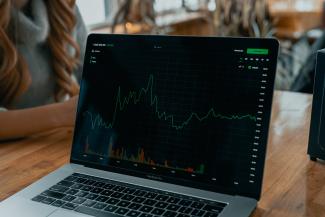 Expecting More Bond Volatility?
The Federal Reserve made headlines this week with its decision to keep interest rates steady, hinting at the possibility of one more rate hike later this year. It was a slightly more hawkish stance than what the market had expected, especially in the context of the "high-for-longer" narrative. The idea of "higher-for-longer" interest rates raises concerns about a recession's risk. This concern prompted investors to sell off interest rate-sensitive securities, such as long-term treasuries. As a result, the 10-year Treasury Yield surged to 4.5%, a level not seen since 2007.
However, something doesn't quite add up in this scenario. The MOVE Index, a widely followed measure of bond market volatility, isn't reflecting the significant sell-off in bonds. In fact, it's holding at its lowest point since the rate-hiking cycle began. This divergence between bond market volatility and treasury yields is raising eyebrows and suggests that we might be in for more bond market turbulence in the future. The prospect of further volatility might be unsettling for investors who typically turn to bonds as a safe haven.
We have our RiskFirst® process, which aims to navigate through these uncertain times and also seeks to sidestep drawdowns in risk assets. We believe in a disciplined approach to managing investments, and in times like these, that approach can make all the difference.
Expecting More Bond Volatility?
Source: Bloomberg, Redwood. Data as of 9/22/2023. Date ranges from 12/9/2019 - 9/22/2023.
We believe the preservation of capital is key to consistent, long-term investment success.

Our investment approach is grounded in economic theory and backed by quantitative analysis.

Managing drawdown risk is a pillar from which we build our portfolios.
Regards,
Allgood Financial
Disclosure: This piece is for informational purposes only and contains opinions that should not be construed as facts. Information provided herein from third parties is obtained from sources believed to be reliable, but no reservation or warranty is made as to its accuracy or completeness. Charts and graphs are for illustrative purposes only. Discussion of any specific strategy is not intended as a guarantee of profit or loss.  Past performance is not a guarantee of future results. Objectives mentioned are not guaranteed to be achieved. Investors cannot invest directly in any of the indices mentioned above. RiskFirst® is a registered trademark of Redwood Investment Management, LLC.
2323 Naperville Rd, Suite 210 | Naperville, IL 60563 | 331.229.3224 | matthew@allgoodfin.com | allgoodfin.com